Taskforce to tackle tree killer in the Belfast Hills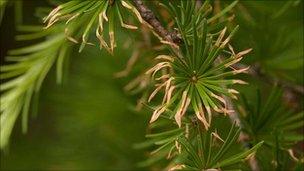 The Belfast Hills Partnership has unveiled a taskforce to help neutralise the threat of sudden oak death to trees in the Belfast Hills.
The Belfast Hills are made up of 4,400 hectares of private farming land, upland health, wooded valleys and rivers.
While no infections have yet been observed on partnership land, areas such as Cave Hill Country Park, Belfast Castle estate, and Colin Glen Forest Park are being examined for signs of disease.
Sudden oak death, also known as phytophthora ramorum, is a disease caused by a fungus-like pathogen.
Although it favours oak and Japanese larch, sudden oak death can infect many types of woody plant and could have a severe impact on woodland and other habitats.
Belfast Hills Partnership Manager Jim Bradley said Japanese larch made up only a small proportion of the tree population in the hills.
"However it is still a vital part of a habitat we don't have enough of. We are hopeful we can avoid this devastating disease reaching the Belfast Hills for some time to come," he said.
The disease was first detected in Northern Ireland earlier this year on Japanese larch on Lord Rathcavan's estate near Broughshane in County Antrim.
Seven areas of woodland in Northern Ireland have already been affected.
The outbreaks have been confirmed in forests at Bohill, Glenarm, Carrickfergus, Woodburn, Ballyboley, Glenwherry and on Lord Rathcavan's estate.
It is believed the disease may have been spreading undetected in Northern Ireland since 2007.
The fungal spores can be spread around the countryside on footwear, on animals, on vehicles and by the transport of infected plants and in rain, mists and air currents.
The disease causes new shoots and foliage to wilt and the tips of needles to turn yellow-brown.
Eventually the needles turn black and fall off after which the tree dies.
The main method of preventing further spread of the fungal spores is to fell all the trees in the infected woodland.
Related Internet Links
The BBC is not responsible for the content of external sites.