U4D unveil plans for Magee campus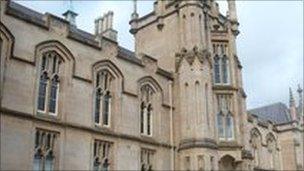 The University for Derry lobby group has said the removal of the cap on student numbers at Magee would add an additional £1bn per year to the city's economy by 2040.
The group wants to see the numbers studying at the campus increase from 3,500 to almost 10,000.
They say it would result in an additional 2,800 new jobs over the next ten years.
The group announced its vision for campus's expansion on Thursday.
U4D chairman, Padraig Canavan, said it was a significant project.
"It will change the economic fortunes of the North West and Northern Ireland as a whole," he said.