Armed robbers 'threaten to kill' family in Londonderry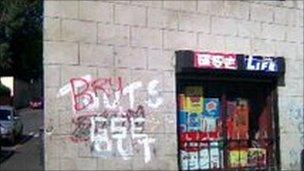 The owners of a shop in Londonderry say armed robbers threatened to kill their family during a hold-up at their business in the Bogside.
Two men, one carrying a gun, terrorised staff at the corner shop in Cable Street at around 20.30 BST on Wednesday.
They escaped with cigarettes and a sum of cash.
Jacqueline Woodrow and her husband Liam described the experience as "terrifying."
"I was threatened that if I phoned the police they would come back and blow my family's brains out,"she said.
Mr Woodrow revealed he gave chase to the robbers even though he knew one of them was armed with a handgun.
"I didn't care, instinct took over, it wasn't just the robbery it's the point of them coming here with a gun and the psychological affect it has," he said.
The couple who have two young sons say they may now close the corner shop because they fear for the safety of their children.
Mrs Woodrow said, "Sometimes the wee boy of fourteen sits in the shop, if he had been there it wouldn't bear thinking about."
The police have appealed for anyone with information to contact them.