Coroner to highlight dangers of prescription drugs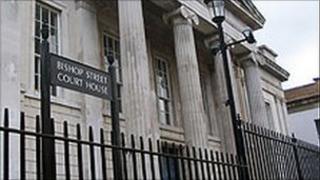 A coroner has pledged to highlight the dangers of misusing prescription drugs after the inquest into the death of a Londonderry man.
29 year old Emmet McFadden died after collapsing at a flat in the city in May last year.
A post-mortem examination found seven different drugs, most of them prescription, in his blood.
Coroner Joanne Donnelly said she will report her findings to the health authorities and the police.
Mr McFadden was also two and a half times over the legal limit of alcohol for driving.
His father, Brian, said his son knew his addictions were killing him, but was unable to break his destructive cycle of addiction.
"Three weeks before he died Emmet told me he needed help," he said.
In a letter, Emmet McFaddens's GP told the inquest that he had a significant mental health history and also had a record of multiple attendances at Altnagelvin hospital's A&E unit.
He said those attendances resulted from assaults, some of them paramilitary punishment attacks, in which Mr McFadden sustained multiple fractures as well as stab wounds to the chest.
After his son's death Brian McFadden criticised the level of help available to people with addictions.
On Wednesday, he called on the coroner to use her influence to persuade those in authority to provide adequate detoxification facilities.
"I'm very pleased with the findings of the coroner because this is a problem and it's a nightmare."
The Northern Ireland Health and Social Care Board said it would consider the comments made by the Coroner.
Its statement said work would continue with all relevant partner organisations to maintain an appropriate range of treatment services and, where possible, to ensure that these offer everyone an acceptable level of access regardless of where they live.