Pipe bomb found in Derry's Carnhill estate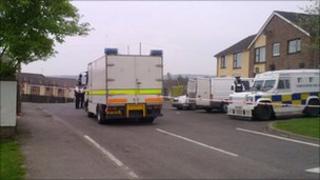 A pipe bomb had been recovered during a security alert in Londonderry's Carnhill estate.
The alert, which caused a number of homes to be evacuated, is continuing.
The police received reports of a suspicious object in the Carnhill estate at 0930 BST on Wednesday morning.
The object was examined by the Army and police said it was a "small viable pipe bomb type device". Some roads closed due to the alert have reopened.
Elderly people and parents said they were "outraged" by the disruption caused by the alert.
One woman said: "I just woke out of my bed and was told to get out.
"This doesn't affect anyone else but the people who live here."