Pair arrested over Londonderry arson attack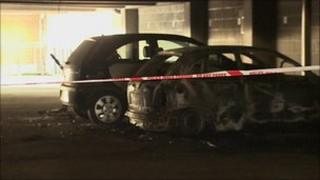 Two men in their 20s have been arrested in connection with an arson attack in Londonderry.
Two cars were set on fire in the car park of the Clipper Quay complex just before 0200 on Thursday morning.
Twenty-five firefighters from Northland Road and Crescent Link fire stations were tasked to deal with the blaze.
The Station Commander at Crescent Link Fire Station, Andy Russell, said young children were amongst those who had to be evacuated.
"Families were left sitting on the banks of the Foyle over a needless act," he said.