Fire Service car vandalised in Londonderry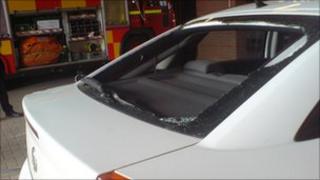 A Fire and Rescue Service car had to be withdrawn in Londonderry on Thursday night after it was vandalised while crews dealt with a house fire in Hazelbank .
They were called to a house in Farland Way shortly after 1900 BST.
Damage to the rear window of car was discovered after the blaze was extinguished.
Station Commander Paul Coyle, whose car was attacked, said he believed children were behind the incident.
"This puts additional pressures on colleagues of mine in other districts," he said.
"There was another call and an officer from a further district had to respond, which results in delays."
Mr Coyle said such attacks were unacceptable and called on community representatives and politicians to tackle the problem.
Hazelbank community worker, Teresa McDonagh, appealed to parents to take responsibility for their children.
"The community does not want this, they are disgusted," she said.
"We have to take responsibility for our children and the education of young people."