River search continues for Lifford man David Colhoun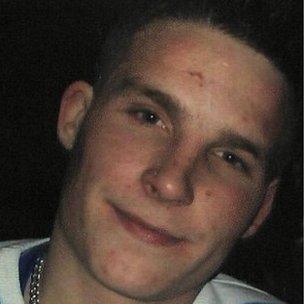 The search for a County Donegal man who has been missing since escaping from PSNI custody has entered its second week.
David Colhoun, 22, from Lifford was arrested in Strabane on 22 May for minor offences.
A search involving police on both sides of the border and Foyle Search and Rescue has concentrated on the River Mourne near Lifford Bridge.
David Colhoun's family have said they believe he has drowned in the river.
Donegal County Councillor Frank McBrearty said many local people took part in the search over the weekend.
"It's been unbelievable. Without the local people I think the family would have been in complete despair altogether.
"I would ask the PSNI and the gardai to step up the search at this stage because we need as much help as possible. The family are completely distraught. It's been a very long week for them," he said.
Mr Colhoun is described as being 5ft 10in tall, of slim build with fair spiky hair and when last seen he was wearing a navy hooded top with white lettering on the front and dark tracksuit bottoms.
The PSNI have refused to give any details on how David Colhoun escaped from custody.
The Police Ombudsman is monitoring the case and has been in contact with the Colhoun family.