Premier Inn plans first hotel in Londonderry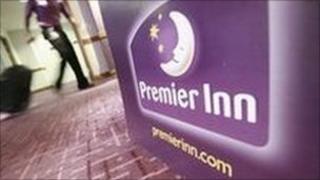 A hotel chain has announced plans to build its first hotel in Londonderry.
Premier Inn wants to open a £6m hotel at Crescent Link in the Waterside, creating up to 60 full-time jobs.
The project is in the final planning stages and could open in 2012.
John Bates from Whitbread, the company which owns Premier Inn, said it was a "significant investment".
"We're hoping to create a major new gateway hotel development," he said.
"We see a clear demand that isn't being met at the moment for high quality accommodation at great value for families and business people.
"The jobs will range from general manager to assistant manager and down to cleaners. We have an Ofsted-approved apprenticeship scheme so people have a clear career structure in which they can progress throughout the group."
Premier Inn has six hotels in Northern Ireland, including a new hotel in the Titanic Quarter in Belfast.
Mr Bates said he hoped the new 60 bedroom hotel would be open in time for Derry's year as UK City of Culture in 2013.
"As a city and a tourism attraction in terms of the Walls, the gateway to Donegal and the Causeway coast, this hotel in Derry would be a great asset to Premier Inn's portfolio of six hotels in the Northern Ireland," he said.