Man jailed for making obscene gesture to police officer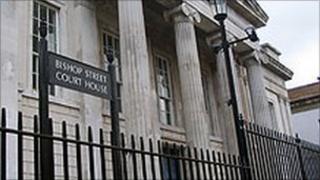 A man who was about to walk free from court until he made an obscene gesture to a police officer has been jailed for nine months.
John Harkin, 37, from Mount Street Mews in Coleraine, recieved a suspended sentence after pleading guilty to motoring offences.
However Harkin made obscene gestures to the investigating officer saying 'I have got away with it'.
He was rearrested and jailed at Londonderry Crown Court on Monday.
Judge Piers Grant described the defendant's actions as 'vile, stupid, crass and wicked'.
He said it was comparatively rare for courts to review a sentencing matter, but the circumstances of the case were extraordinary.
A defence barrister said Harkin had acted in a moment of madness and had offered to apologise to the police officer, but the officer had refused to accept the apology.