Bones found at former Omagh Hospital site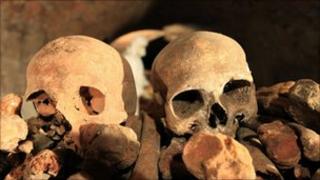 Seventy-nine skeletons have been found during work on the site of the former Omagh General Hospital.
The bones, thought to be around 160 years old, were discovered under the hospital's old car park.
There are two cemeteries close to the site but the skeletons were uncovered in an area where no burials had been anticipated.
The remains will be buried at Omagh Cemetery on Thursday.
They are understood to date from the mid-19th century, when a workhouse existed on the site.
No records exist in relation to the identity of the people and the burial plots were not marked.
Kieran Downey of the Western Trust said the remains would receive a "dignified" reinterment service.
"The trust has engaged the services of an undertaker for the reinterment and clergy representatives from Omagh Churches Forum have agreed to assist at a service in the cemetery. Representatives of the trust are also planning to attend," he added.
"The trust is planning for an appropriate memorial stone to be located at the site of the reintered remains."
The finds were made during excavation ahead of building work on a new children's respite centre on the former hospital grounds.