Disabled Derry swimmer leaves pool £25k in will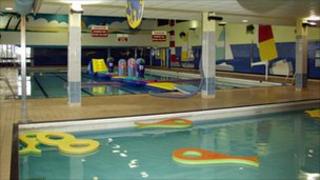 A man who swam regularly at Templemore Sports Complex in Londonderry has left the centre almost £25,000 in his will.
Pat Vij's family said the donation was in recognition of the attention and kindness he received from staff at the facility.
They used to open the pool early every day so that Mr Vij, who was disabled, could enjoy his morning swim in comfort.
Councillors are now considering a plaque in his honour.
Mr Vij, who died in 1992, used the pool in the late 1980s and early 1990s following a major operation.
Derry City Council's leisure manager, Jeff Ashe said he was pleased to finally be able to announce the donation Mr Vij had made to the complex.
"Those of us that do remember Pat are amazed. We remember him as a very affable gentleman. A gentleman who brought in home-grown produce from his greenhouse.
"To the staff here who knew he was a gentleman, well this has put the stamp of authority on that."
Mr Ashe said the money will be used to build a new dressing room at the complex with disabled access.
"I think that would be a fitting tribute to Pat," he added.