Concerns over Foyle College move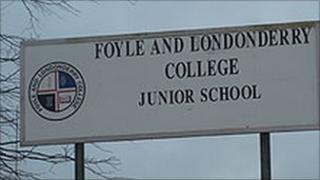 The education minister, John O'Dowd, has said he has yet to make a decision over the relocation of two Londonderry schools.
Foyle College, and Ebrington primary school, are due to move to a new site at the former Clooney base in the Waterside.
However, Mr O'Dowd said he is currently reviewing his capital builds project.
He is due to make a final announcement about the move in September.
The principals of both schools, and the boards of governors, said they are concerned about the future of the move.
The principal of Foyle College, Jack Magill, said the project is essential to the prosperity of the city.
"The department of education looks purely at the issues from an educational view point," he said.
"If Foyle College moves to the Waterside, Magee can expand on to the Foyle land, there will be more students coming to Derry, greater funds coming to the city and greater prosperity for all of the people.
"There is one log jam here which is Foyle College and the minister needs to smash through that log jam."