Celebrations to mark opening of Derry's peace bridge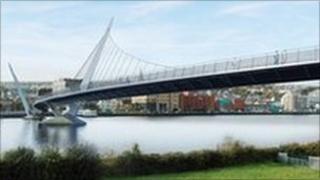 Final preparations are being made for the opening of Londonderry's new peace bridge.
A weekend of celebrations is planned to mark the ribbon-cutting ceremony on Saturday.
The £14m cycle and footbridge is one of the biggest projects undertaken in the area in years.
It covers a distance of 312 metres and will carry pedestrians and cyclists to and from the cityside and Waterside.
The large concrete sections which form the deck of the bridge had to be shipped over from Wales, weighing 1,000 tonnes.
They were lifted into position by one of the UK's largest sea-going cranes, the Mersey Mammoth from Liverpool.
A total of 600 children from various schools across the city will provide a colourful spectacle as they mark the official opening.
There will be a fireworks display on Saturday evening and people will also line the bridge with torches in a "vigil of light".
It is hoped the bridge will be the focus for not only major regeneration of the area, but the symbolic union of what was once a divided city.
The chairman of Derry's regeneration company, Ilex, said the peace bridge would become the city's iconic image.
Sir Roy McNulty said it would become a "recognisable landmark".
"It is not as big as the bridge across Sydney Harbour, but for Derry I think it will provide a memorable image and I think people will see it on postcards and images of the city," he said.
"It will stand for Derry."