Creggan community worker shocked by 'sinister' graffiti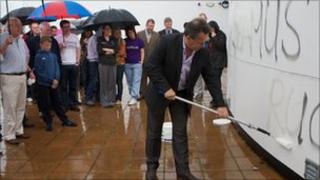 A Londonderry community worker has described graffiti written about him in the Creggan estate as "sinister and upsetting".
Seamus Heaney said it is the first time he's been targeted personally.
The graffiti was daubed on the wall of the Creggan Healthy Living Centre and read 'Seamus Heaney RUC cheerleader'.
Mr Heaney, who has been a community worker for more than 30 years, said he was shocked.
"I have made a lot of comments and criticisms of various things in the past but I have never been subject to anything like this publicly before."
Mr Heaney said he had no idea as to what motivated the attack.
"The question going through my head is why this is of a personal nature and why the linkage of my name and the RUC.
"It does not make any sense other than to denigrate me and what I'm about."
'Acts of intimidation'
SDLP Foyle MLA Colum Eastwood has condemned those responsible.
"Last night's attack in Creggan seems to run in a line of similar acts of intimidation. They can no longer be tolerated and should be out-rightly condemned by all."
Hundreds of people took to the streets of the estate last week to protest about an attack on a community worker's car.
Several windows of a car belonging to Sean McMonagle were smashed.
Mr Heaney said he would not be deterred from continuing with his community work.
"If anyone has an issue with me, come talk to me about it. Do not go slinking about in the dark to put out an erroneous message."