2,000 apply for 35 jobs at Derry cinema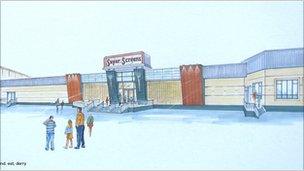 More than 2,000 people have applied for just 35 vacancies at a new cinema in Londonderry.
The seven-screen Brunswick Cinebowl at Pennyburn Industrial Estate is due to open next month.
The response to the jobs advertisement has been described as "phenomenal".
The cinema's operations manager, Caoimhin McClafferty said: "We have had applications from professionals, graduates, under-graduates and short and long-term unemployed.
"It has really gone into a wide spectrum. It seems to be everyone wants a job here," he added.
The cinema is currently conducting a second round of interviews and Mr McClafferty said he hoped to have all the positions filled by 22 July.
"At the minute we have around 150 people coming for interviews. But we are trying to meet with everybody who has applied, even if it is post opening, to give them feedback."
He said the volume of applicants had been "unreal".
"It has posed its challenges for us in finding the right candidates for the jobs. We want the candidates to have a job that is right for their skill sets," he said.