NI workers top UK survey for 'skiving off work'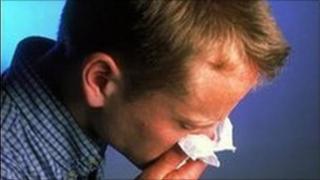 Northern Ireland workers take more unauthorised sick leave than anywhere else in the UK, according to a nationwide survey from PricewaterhouseCoopers (PwC).
The survey found that 65% of employees admitted having taken time off under false pretences for at least a day in the past year.
A third took between two and five days.
The figures compare to 51% in Scotland and 62% in Wales.
The survey included workers in the private, public and voluntary sectors and revealed that people go to considerable lengths to cover their tracks.
Illness is the favoured excuse for so-called "skivers" with more than one-in-10 admitting faking symptoms around the office in preparation for a day off.
Northern Ireland also had the highest level of "copycat" skivers with workers saying they were inclined to skive if they saw colleagues doing the same.
'Bored and depressed'
Some of the more incredible excuses given for missing work included a rabbit running away and amnesia.
Pets also provided many of the excuses. One worker said he had to take his dog to the vet - forgetting that he had previously used the excuse that his dog had died.
"Absenteeism costs UK business around £32bn a year, but our findings suggest a large chunk of this loss is preventable," said Stuart McKeown, an HR specialist with PwC in Belfast.
"If people are bored and depressed with their jobs, employers need to think creatively how they can get people back in gear," he added.
"Rather than a sign of laziness, unwarranted leave can mean people are under-used and paradoxically, some industries associated with long hours and high pressure, such as financial services, often record the lowest levels of absence."