Hundreds attend vigil held for missing Lifford man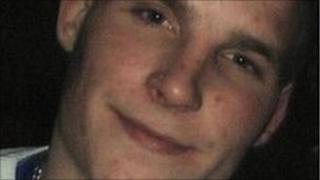 Hundreds of people attended a vigil on Tuesday night for the Lifford man David Colhoun, who has been missing for more than two months.
The 22-year-old has not been seen since he escaped from police custody in Strabane on 22 May.
Extensive searches were carried out along the River Foyle and River Mourne in the weeks following his disappearance.
It is thought around 300 people attended the vigil on Lifford Bridge.
Fr Edward Kilpatrick, who led the vigil, said the searches would continue until the missing man is found.
"While, perhaps, the official search might have been scaled down, the search is ongoing - particularly along the banks of the Foyle," he said.
"Local people have continued to join in the search of the river, and people in the whole area are very much concerned for the recovery of David Colhoun.
"Everywhere I go, people are continuing to ask 'any news today?'"