Five accused of Dungiven ATM theft attempt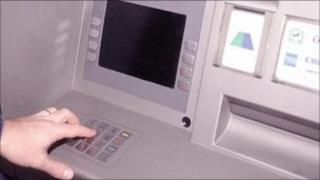 Five people have appeared in court in Strabane over the attempted theft of a cash machine in Dungiven on Monday.
Thomas Ward, Bernard McDonagh Sr, Margaret Cash, and two teenage boys face charges connected to burglaries and thefts over the past month.
Among them is the attempted theft of an ATM machine from a post office on Main Street, Dungiven.
The five are members of the travelling community with addresses at Daisyfield, in Londonderry.
A detective constable said the police believed all the defendants had strong links to a criminal gang operating across Ireland, north and south.
She told the court that she believed she could connect all five defendants to the attempted theft of the ATM machine in Dungiven. She also said a footprint left at the scene matched that of a shoe worn by Thomas McDonagh.
She said that when apprehended, tools, including metal cutting equipment, a screwdriver and heavy duty gloves were found in a Ford Focus being driven by one of the defendants.
Sledgehammer
A sledgehammer was also seized from a Shogun being driven by Bernard McDonagh Sr.
The detective said she could further connect the five to thefts of a Mitsubishi Shogun and a Ford Focus from Bob Mullan Motors on 24 July.
A handprint matching one of the youth defendants was found on a rear light of the Focus, the detective said. It may have been left when he tried to change the number plates.
The witness said she could connect the defendants to break-ins at Lidl stores in Derry and Strabane during which cash and vouchers were taken.
Margaret Cash is further charged with trying to buy electrical equipment to the value of £350 with the stolen vouchers.
The detective said all the defendants had only moved to Derry in the past six weeks. The police believe this may have been because of the attention they had attracted in the Republic of Ireland in recent months.
Solicitors Michael McGee, Stephen Mooney and John McCafferty all expressed concern at the charges being pursued by the PSNI against their clients.
Bail applications, however, were all refused by District Judge Noel Dunlop.
The five were remanded in custody to appear by video link at Londonderry Magistrates' Court on 18 August.