15,000 to attend annual Apprentice Boys' parade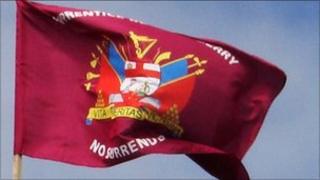 Fifteen thousand people are expected in Londonderry on Saturday for the annual Apprentice Boys' parade.
A hundred and forty bands will also march through the city centre at lunchtime.
The parade is the culmination of this year's week-long Maiden City Festival.
It marks the 322nd anniversary of the ending of the Siege of Derry in 1689, when the Catholic King James II laid siege to the walled city.
Dissident republicans are planning protests against the loyal order demonstration.
However, the Governor of the Apprentice Boys, Jim Brownlee, said he hoped the protests would not disrupt the day.
"Obviously, it's something we could do without, but we have to remember that people have a right to protest," he said.
"We respect that right to protest and we hope those protests are peaceful; and we hope the two events, both ourselves - in terms of the parade - and those protests, can pass off peacefully and everybody can get on with their business."