David Ford apologises to RUC reservists over letters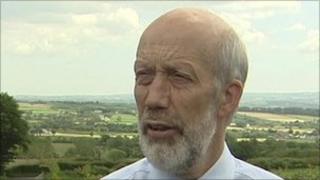 Justice Minister David Ford has apologised after some former police reservists received letters which they say put their safety at risk.
Ulster Unionist MLA Ross Hussey said some people had received envelopes with the words "part time reserve gratuity" clearly visible.
About 6,000 former reservists are entitled to gratuity payments.
Mr Ford said he shared the concerns that had been raised over the letters and said a helpline had been set up.
"I want to apologise for this error and for any distress this has caused," he said.
"I have initiated an urgent security assessment and have established a helpline for individuals who have concerns.
"In addition, a review is bring conducted into the circumstances of how this regrettable incident occurred."
Earlier, Mr Hussey, a former reservist and chairman of the RUC GC Association Part-time Officers Welfare Group, called for Mr Ford to resign.
'Angry and anxious'
"The situation is under his control, the buck stops with the minister."
He said the people he had spoken to were angry and anxious, and one woman had moved house because of her concerns.
"She was appalled that her security cover had been blown in this way," Mr Hussey said.
"A regular officer I spoke to who has 25 years full-time service, and who was also a reservist, was similarly disgusted that here he was, after following all the regulations that as police officers we've always been taught to follow, and here this letter comes out which shows total incompetence on the part of the sender.
"Clearly there are people who are still serving, who have served, and who are now potentially targets for dissident republicans.
"The department have made a total gaffe here. This is a total nightmare for anybody who was involved with the security forces, and heads must roll over this."
'Major consternation'
The chairman of the Police Federation, Terry Spence, said the security breach had caused "major consternation".
"I have been given an assurance by the Deputy Chief Constable, Judith Gillespie, that if any officer, serving or retired, feels he or she has been compromised, and there is specific information which would tend to support that, then there will be a full and comprehensive review of security at their homes, and of their movements as well."
The chair of the Stormont Justice Committee, DUP MLA Paul Given, said anyone who had failed to do their job should be held to account.
"I want David Ford to make sure this investigation is a very wide one.
"It should identify who was responsible for this happening and what processes are in place to make sure something like this doesn't happen again.
"If there are people who haven't done their job then they should be held to account, and if it transpires that goes right up to the justice minister, then he should step forward and be held to account likewise."
Any recipient of the gratuity scheme letter who has concerns about their personal security can contact the Department of Justice helpline on 028 9052 2444 between 09:00 and 17:00 BST, Monday to Friday.