Chair of regeneration body Ilex steps down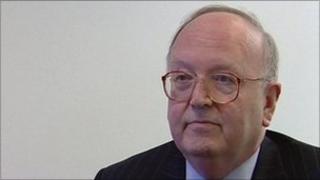 The chairman of the body responsible for the regeneration of Londonderry is to step down.
Sir Roy McNulty, 74, said he was leaving his post at Ilex because he wanted to reduce his workload.
Sir Roy said he had no doubt that "a new chair can provide the sustained focus on implementation which will be required for lasting success".
Ilex was set up in 2003 and is working on master plans for the former army bases at Ebrington and Fort George.
Sir Roy, who oversaw the 'One Plan' for the future development of the city, said it was a privilege and pleasure to serve as chair of Ilex since 2007, but he felt it was time to step down as he will be 75 next year.
Sinn Fein junior minister and Foyle MLA Martina Anderson said "although Ilex was in existence for a number of years before Roy was appointed, it was only after he took up the post that things began to happen.
"He is leaving us well grounded on what has to be done in the future," she said.