Postman mauled by Alsatian thought he was going to die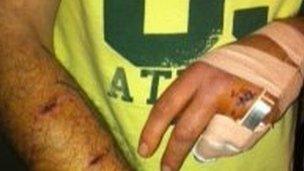 A postman is recovering after being mauled by an Alsatian-type dog in County Tyrone.
Dean Barr was delivering mail in Castlederg when he was attacked. He sustained lacerations to his hands, arms and leg, as well as broken bones.
He said he thought he was going to die during the incident last Friday, and has called for the animal to be put down.
Strabane District Council is investigating the incident.
"I didn't see the Alsatian, so I assumed it was locked up round the back where it usually is," Mr Barr said.
"As I posted the mail, I turned round to get back into the van when the Alsatian leapt on me.
"It started biting me on the arm, and when I put up my hand, it started to bite me on the hand.
"It tossed me to the ground and started biting me on the leg. It came at me again and I thought it was only a matter of time before it started going for my throat or face."
Mr Barr said he believed he would not have survived but for the intervention of the dog's owner.
"I just thought, once I was on the ground, this is it, I'm going to be killed."
Mr Barr said he was worried that the dog could attack someone else.
"I just don't understand how someone could have a dog like that about their home," he said.
A spokesperson for Strabane District Council said the matter was under investigation, and it would be inappropriate to comment.