Derry man accused of threatening to kill ex-girlfriend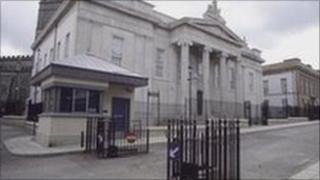 A man allegedly told his former partner that he would cut her throat and cut her into "little bits" after she refused to lend him money, Londonderry Magistrates Court has been told.
40-year-old Charles O'Donnell, of 19 Market Street, Derry, was charged with assaulting the woman and threatening to kill her.
The court was told the accused had 25 previous convictions.
Defence solicitor Seamus Quigley said the charges would be denied.
A police officer told the court that on 15 October, the woman contacted them and alleged O'Donnell had demanded money from her and when she refused, he made the threats against her.
The woman also alleged O'Donnell said if he was arrested, he would "come back and kill her" and then threw a toy and a plastic bottle at her.
O'Donnell was released on his own bail of £500 on condition that he had no contact with the woman.
He will appear in court again in November.