Teenager charged with threatening to kill girl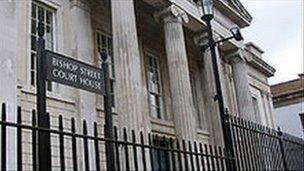 An 18-year-old man has appeared in court in Londonderry charged with threatening to kill a child, then sexually assaulting her.
Conor James O'Kane, from Scroggy Park in Limavady, is also accused of entering the bedroom of two sisters, aged 12 and 9, on two occasions with intent to commit sexual assaults.
The offences are alleged to have taken place between 2 October and 5 November 2011.
He was remanded in custody, and the case was adjourned.
A police witness told the court that the defendant claimed during interview that the incidents were the result of drunken mistakes.
He said he was concerned that, if released on bail, the defendant could interfere with witnesses and could reoffend.
District Judge Mervyn Bates said he refused bail because of police concerns and the age and vulnerability of the sisters.
Update: On July 17, 2012, Conor James O'Kane pleaded guilty and was convicted on charges of threatening to kill and two counts of common assault. A charge of sex assault of a child was withdrawn. Two charges of trespassing with intent to commit sexual offences were also withdrawn.