City of Derry Airport backs down over 'unacceptable' poppy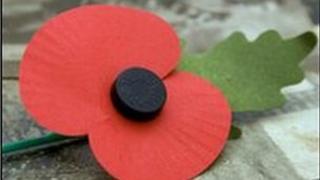 City of Derry Airport has backed down after telling an employee it was unacceptable to wear a poppy at work, according to an Ulster Unionist councillor.
Mary Hamilton said when she queried the case with airport management, she was told they were enforcing council policy by banning the poppy.
But Derry City Council has said it does not have such a policy.
Mrs Hamilton said the airport had apologised to her.
"I informed them that there was no such policy and they went away and made inquiries and found I was correct, and apologised because they said they realised I was right in what I had been saying.
"I think this should act as a reminder to companies to check their policies with regard to poppies.
"Catholics and Protestants fought together and fell together in the two world wars, and I think we need to remember why we're wearing them."
A spokesperson from City of Derry Airport said it had received no details of the alleged complaint from staff, and said there was no formal policy which prohibits its employees from wearing poppies.
"Staff members with any concerns relating to this are asked to contact management directly," the spokesperon said.