Gunmen 'threatened to shoot baby' during robbery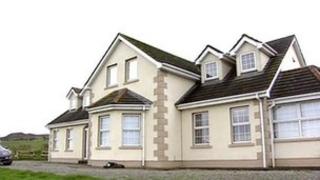 A Londonderry businessman has said he thought he and his family would be killed during a robbery at their Donegal home.
Three armed men broke into Kevin Doherty's home in Bridgend at about 19.30 GMT on Sunday.
Mr Doherty, his wife and their 18-month-old daughter, were held at gunpoint as the men searched the house.
"I was terrified, I did everything they told me to do and hoped it would end," he said.
"A pizza delivery man had just left, and then three men walked into the living room.
"Two of them were masked and one had a hood up, and I saw two guns.
"They said, 'Right Kevin, come with us', and I heard them tell my wife and child to get down by the window.
"My daughter was looking up at them and pointing," added Mr Doherty.
He said the gunmen led him through the rooms in the house.
"Every room I went into, they told me to close my eyes, put my face against the walls, and put the gun to my head.
"Then they bunged me into the car with a lot of stock from the shops, and kept threatening to shoot me.
"They said if I told anybody they'd come back and shoot my wife and child.
"They took me in the van up the back roads behind the house, and I heard the sliding door of the van opening and closing, and then I thought they were going to shoot me.
"Then they let me go.
"It was a terrifying ordeal. We haven't been back to the house now, my wife's too frightened."
About £6,000 worth of cash and cigarettes were taken during the robbery.
Irish police have appealed for anyone with information to come forward.