Derry man jailed for 6 years for schoolgirls' abuse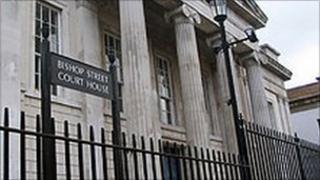 A 52-year-old Londonderry man who plied four schoolgirls with alcohol before sexually abusing them has been jailed for six years.
Martin Edward Coyle from Bridge Street pleaded guilty to 18 charges including gross indecency with a child, unlawful carnal knowledge, and indecent assault.
Londonderry Crown Court was told the abuse took place over a nine month period in 2007.
He was also placed on the sex offenders' register indefinitely.
The court was told that Coyle used alcohol, cigarettes and money to lure the girls - who were aged between 14 and 16 - to his home and to another house in Derry.
Judge Piers Grant said Coyle was "depraved, vile and disgusting", and his abuse was "premeditated, planned, organised and involved grooming".
He said Coyle showed the girls pornographic films and gave them alcohol to disinhibit them before assaulting them in front of each other.
The judge said Coyle's victims came from a vulnerable background, and were still psychologically damaged.
One has attempted self-harm, and the others have feelings of worthlessness and difficulty socialising with girls their own age.
Judge Grant said that during the abuse the girls called him daddy, and he told them they were special.
He described Coyle's actions as wicked, and said they had a profound effect on the lives of the four children.
He also said Coyle still presents a significant risk to children and the public.
Coyle was also made the subject of a sexual offences prevention order which bans him from unsupervised association with children under 18 for an indefinite period.