Educations cutbacks will cost jobs: DUP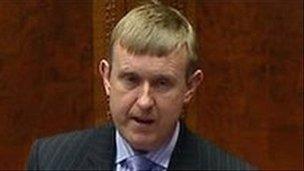 The DUP has claimed that cuts to school budgets in Northern Ireland will lead to job losses.
The Department of Education has written to school principals, warning that they will receive five per cent, or about £100, less per pupil next year.
For a school with 500 pupils, that will mean a reduction of £50,000 a year.
The DUP's education spokesman, Mervyn Storey, said that, as a result, schools were facing "a financial train wreck".
"Many schools have currently a deficit," he said. "Schools that have been struggling to meet their financial commitments already find themselves in a very difficult position.
"I think it's even alluded to in the letter that goes to the schools because the department talks of arrangements will be put in place to enable schools to make cost reductions through redundancies.
"When you are faced with a financial situation that schools are now being faced with, the predominant place where you will look for savings will be in the overall running costs and that's in staff."