Family fears for missing Derry man Eamonn Moore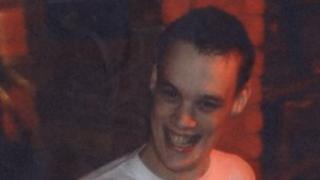 The family of missing Londonderry man Eamonn Moore said they were becoming increasingly worried for his safety.
The 21-year-old, from Jefferson Court in the city centre, has not been seen since he left his apartment on Saturday morning.
It is understood that his family received what they regarded as worrying texts from him at the time.
On Monday, relatives, the police and Foyle Search and Rescue carried out searches along the river Foyle.
Members of Mr Moore's family have been returning home from England and Australia following his disappearance.
His sister, Mairead Moore, said his disappearance was totally out of character and that he had been struggling to come to terms with their mother's death two years ago.
"We're really worried about him," she said. "It's really difficult. We really care about him and we'd love him to come home.
"At the same time, if anything's happened to him, we'd really appreciate any information from anybody."
Mr Moore's uncle, Liam Healy, make this direct appeal to him: "We're very, very worried. We're very concerned. We've been searching everywhere for you. If you're out there, please, please contact us.
"Your grandmother is upset, your sisters are upset and your father is upset. Just contact us if you're out there."
Eamonn was last seen wearing blue jeans, a black coat with red stripes on the breast and black boots.
He is 6ft 1in (1.85m), of slim build with a pale complexion and sandy, fair hair.
Police are asking anyone who has seen him or knows anything about his whereabouts to contact Strand Road Police Station on 0845 600 8000.