Derry drinking project hailed national success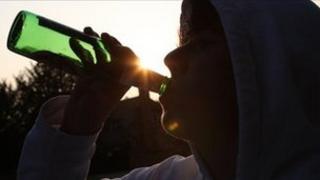 A project launched last year to cut underage drinking in Londonderry has been hailed a national success.
The Community Alcohol Partnership scheme aims to tackle underage drinking and anti-social behaviour.
The government's champion for safer communities, Baroness Newlove visited Derry on Friday to see the impact the initiative has had on communities.
Karen Philips from Derry City Council said they were delighted to welcome Baroness Newlove to the city.
"People's lives have changed so much. It has involved a lot of hard work from a lot of different agencies," she said.
"The problem has not been solved and we recognise that there is still much to do."
Interim report
The visit comes as the scheme announced results of the interim evaluation.
It shows the impact during 2011 on underage drinking and related anti-social behaviour in the Creggan, Rosemount, Beechwood and Glen areas of the city.
The report outlined that alcohol related incidents, where young people were causing "annoyance" dropped by 50%.
The figures were taken from the period May to September 2011, compared to the same period in 2010.
PSNI Community Police Officer, Sergeant Ray Wilson, said: "We visited off licences, we put officers into schools to talk to young people about how their actions affect others.
"Through that we have seen a major attitude change on the streets from the young people."
Pensioner Lily O'Hagan, who lives in Rosemount, said it had changed her life.
"You could not even sit in your living room because the crowds gathered outside. The language and behaviour was something desperate," she said.
"They now speak to you and say hello. It is really fantastic."