All-Ireland Fleadh win 'will boost Londonderry economy'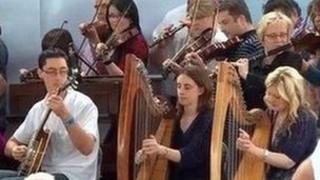 A tourism leader has said that winning the 2013 All-Ireland Fleadh will be a major boost to Londonderry's economy.
Odhran Dunne, the interim chief executive of the Derry Visitor and Convention Bureau, said there would be tangible benefits the like of which the city had never seen.
The fleadh will coincide with Derry's year as UK City of culture in 2013.
The Irish traditional music body, Comhaltas, decided the venue on Saturday.
"You can imagine the atmosphere will be really electric," Mr Dunne said, "and the city is really anticipating it."
The event is worth about 40m euro to the host venue, and is expected to bring about 300,000 visitors.
Mr Dunne said there was plenty of accomodation in a thirty-mile radius of the city, and that it was a chance to improve the infrastructure of the city itself.
"There are almost 600 rooms available in the city and there's planning for quite a number of hotels," he said.
"Maybe this is where the physical landscape of the city will change and really thrive. Those who have ideas of establishing hotels in the city will have the opportunity to go forward with that planning."
Derry, which will be UK City of Culture 2013, was a late confirmation on the shortlist after the Ulster Council of Comhaltas Ceoltoiri Eireann reversed its previous decision not to support the bid.
It had withdrawn its backing after two bombs exploded in the city last week, including one near Mr Dunne's office on Foyle Street.
"We have no concerns," he said.
"We will work with all the stakeholders and the PSNI to make sure that safety will be paramount and security procedures will be in place, so that this will be the best fleadh ever."
Sligo was also in the running to host the fleadh. Ennis had withdrawn its bid.