Man jailed for petrol bomb attack after parade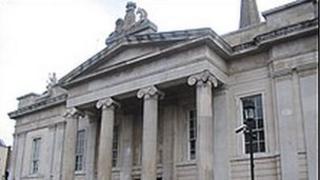 A voluntary worker from Londonderry has been jailed for six months for throwing a petrol bomb which set fire to a police Land Rover.
John Patrick Duffy, 37, of Swilly Gardens in Creggan threw the device at police in Fahan Street during disturbances after the Apprentice Boys' parade on August 13, 2011.
He was pictured in a drunken state in television pictures of the incident.
Duffy later apologised to local residents and the police.
Londonderry Crown Court was told that Duffy became an alcoholic following the death of his closest friend in October 2009.
Since his arrest for throwing the petrol bomb last August, he has not consumed alcohol.
Judge Piers Grant said that Duffy, who was given the petrol bomb by a group of masked youths and who fell backwards onto the ground after he had thrown it, would serve six months in jail followed by 12 months on licence.
He said the organisers of the riot should reflect on the fact that they had achieved nothing other than having the heavily-intoxicated man sent to jail.