Derry residents in limbo over wall repair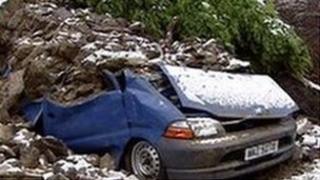 Residents in Marlborough Terrace in Londonderry have said they are disillusioned with the speed of repair work to a wall which collapsed in December.
Many residents had to move out of their homes and residents in Marlborough Terrace and Marlborough Street had been warned against entering their back gardens or yards.
Around 50ft of the wall in Harding Street fell followed by a 30ft section of the wall in Marlborough Terrace.
Resident Marian Mullan, who was affected said nothing had happened since the initial work.
Disillusioned
"I'm disillusioned, my neighbours are disillusioned. We are all sitting in limbo at the moment.
"I look out the back of my house and it's like a quarry. It's all full of stones. You're not allowed access to the back yard.
"I was just told not to go out near it. A letter from Derry City Council sent out a letter to say they wanted to organise a meeting but we're still waiting for that meeting.
"You cant keep people in their homes without getting access to their back yard.
"Derry City Council worked day and night at the time to make the wall safe when it happened back in January but we're all wondering what's going on at the moment.
"I want to see the wall replaced, it cannot stay the way it is."
A spokesperson for Derry City Council explained that residents were advised by letter that Council, with the appointed contractor, are preparing plans for the Phase 2 works due to commence in early February.
A resident information line remains available for all resident queries along with onsite contract liaison officers to assist with information.