Church attack caused "damage to Protestant community"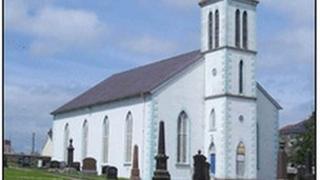 A court has been told, an attack on a Donegal church hall caused "enormous damage to the Protestant community".
The Presbyterian Church hall in St Johnston was set on fire in 2008 causing damage which cost almost 29,000 euros to repair.
Three men from St Johnston pleaded guilty to the attack on Tuesday.
Emmett O'Donnell, 23, Kelan Clarke, 22, both from Ard Baithin and Donal Gillespie, 21, of Old Road, all pleaded guilty to burglary offences and arson.
Barristers representing all three men confirmed to Letterkenny Circuit Court that they had each made contributions to the church of 4,000 euros in compensation, even though the fire was covered by insurance, as directed at a previous hearing by Circuit Court Judge John O'Hagan.
Judge John O'Hagan told Letterkenny Circuit Court the attack had caused "enormous damage to the Protestant community".
"This particular hall was a pivotal centre for the Protestant community in this area and it was absolutely trashed," he said.
All three men received a three-year prison sentence on each count, suspended for three years.