Derry man Andrew Allen shot dead in Buncrana, Donegal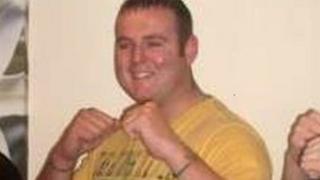 Dissident republicans are being blamed for shooting dead a Londonderry man in Buncrana, County Donegal.
Andrew Allen, 24, from the "Top of the Hill" in the Waterside area, was shot at a house in Links View Park, Lisfannon on Thursday night.
Mr Allen, a father of two, was one of several men forced out of the city by a republican vigilante group last year.
Three men went up to the house and fired a number of shots through a bedroom window.
They had failed to gain entry through the front door.
Gardai have said that one of their lines of inquiry is that republican vigilantes were responsible for the murder.
However, they said they could not ascribe the killing to any particular organisation.
Superintendent Kevin English expressed his sympathies to Mr Allen's family and said the shooting had been a "traumatic event for the wider community of Buncrana".
Mr Allen had been living at the house for about six months. His partner was in the property when the shooting happened at 21:20 GMT, but was not injured.
A car was found burnt out a short distance away at Fahan shortly after the attack.
The areas around both the house and the car have been cordoned off as Irish police investigate the murder.
At a press conference on Friday, Gardai appealed for information about anyone who was in the Links View Park area prior to the shooting.
They also appealed for information about the silver Vauxhall Cavalier car with a Northern Ireland registration SJI 2117 which was found burnt out at Fahan.
Gardai said the gunmen had switched to another vehicle to make their getaway.
They said Mr Allen's body would later be removed to Letterkenny Hospital for a post-mortem examination.
Padraig McLaughlin of Sinn Fein said he believed the man had been targeted by the group, Republican Action Against Drugs.
"It is a shocking murder. We give our allegiance in Donegal and Derry to the PSNI and gardai to control crime. That is one of the blessings of the peace process," he said.
"This is not republican, this is anti-republican. He has been murdered by a tiny group of arrogant thugs who call themselves republican."
Father John Walsh, parish priest in Buncrana, said the taking of life can never be justified.
"There's contempt for the people who have perpetrated this crime.
"There's a cold fury that a young man should, no matter what his background, have been gunned to death in our community.
"We have our own forces of law and order in this town. People do not want this," he said.
Absolute tragedy
SDLP MLA Pat Ramsey knew the victim and his family.
"One can only imagine what his mother and father are going through," he said.
"There are no excuses for this most violent act. Shame on those who carried out this deed. Our community has suffered enough.
"Nothing will be achieved by this action last night.
"We need to have a community response to these attacks," he said.
Sinn Fein councillor Paul Fleming knew the victim.
"The 'Top of the Hill' community is shocked and saddened about the death of Andrew Allen," he said.
"I knew him to see and to say hello to.
"This is a senseless taking of a young life, a man with two young children.
"This a great tragedy for his family."
PSNI Chief Inspector Gary Eaton said it was an appalling crime.
"It is an absolute tragedy for the family, our thoughts must be with the family and friends of this young man at this very traumatic time for them," he said.
"Clearly our colleagues in An Garda Siochana will be leading an inquiry.
"If it is at all possible for us to assist, then we will."