Derry to fall in love with 'reclaimed' parade ground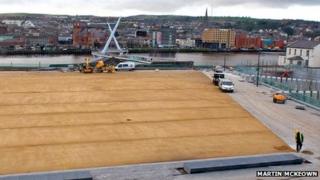 In the 1840s, the parade ground at Ebrington in Londonderry echoed to the sound of soldiers marching on what was one of the most modern military forts in Europe.
On Tuesday the former barracks will once again be full to capacity - but this time with locals and visitors eager for the first glimpse of a parade ground which has been transformed into the city's newest public entertainment space.
The centrepiece of the opening ceremony will be a light and projection show, and there will also be street performers and artwork on display.
In keeping with Valentine's Day, there will also be a Chapel of Love for the romantics in the crowd, and music will be provided by, among others, Bronagh Gallagher, the Codetta Choir, The Wonder Villains and Future Chaser.
Initially built by the Army in 1841, Ebrington has been home to both the Army and the Navy, but closed for good in 2003.
Now managed by Derry's urban regeneration company, Ilex, for months it has been the centre of frenzied activity as contractors work to have the parade ground ready for Tuesday's grand opening.
The view from the peace bridge - which opened in summer 2011 - has already provided a taste of what to expect at the Ebrington site, but for months the full site has been blocked off from view as workmen complete improvements.
'Big surprise'
Now, for the first time, visitors will be able to see the transformed parade ground for themselves - and it's worth waiting for, according to Mo Durkan from Ilex.
"People are in for a big surprise.
"For so long since the peace bridge opened people have been walking through a walkway with a hoarding on either side, but now they'll be able to see the beauty and the grandeur of the site.
"The entire space is several times larger than Guildhall Square, and is on a couple of different levels with a number of different areas where things can happen at the same time.
"We have five different surfaces - granite, glass, gravel, grass, and cobblestones.
"The large performance area has been done in gravel so that at any stage we can put up a marquee or build a structure quickly on site, and then once it's dismantled all you have to do is smooth over the surface.
"We have three different areas which lead off that main event area - the middle one has a little lawn in a sunken garden, and there are a few natural staging areas, which lend themselves to all sorts of cultural events and performances.
"It's a community space for everyone to use, and will be there for formal and informal use, in a similar way to Guildhall Square," she said.
The first major event to take place in the performance area will be Peace One Day concert in June, which will feature Massive Attack.
But Mo Durkan said the significance of the parade ground's reopening goes far beyond its significance as an events space.
"There is an agenda of change in this city as we head towards next year's City of Culture celebrations, and I think the most important thing for many people is the symbolism of this.
"For over 170 years this was a site that was not there for public enjoyment, that the public could not use, and this is about the people of the city reclaiming Ebrington for their own leisure and enjoyment.
"This is now a destination space where people will go, and they will be very surprised.
"They will see views of the city they haven't seen before.
"Not only that, but it blends in beautifully with the Peace Bridge, which was primarily built to bring the two communities together and bring the Waterside into the city centre - and now they have a shared destination space.
"We're making brand new images here."