Peace Bridge and Ebrington Square win Irish Planning Institute awards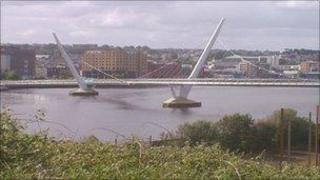 Londonderry's Peace Bridge and Ebrington Square project has taken the top prize in the Irish Planning Institute's awards.
The bridge which links both banks of the River Foyle took the overall award along with the transformed site of the former Ebrington Army Barracks.
The biennial National Planning Awards were presented at a ceremony in Dublin's Custom House by the Republic's minister for housing and planning, Jan O'Sullivan.
The judges said the development was "an excellent example of collaboration in difficult decision-making where the collective memory of a city can be respected and translated openly and confidently into one of the most significant and symbolic landmarks stretching across the River Foyle connecting the heart, people and history of this city."
The Peace Bridge and Ebrington Barracks project will now represent the Irish planning profession at the 9th European Urban and Regional Planning Achievement Awards later this year.
Five thousand people attended the opening on Tuesday of Ebrington Square, which was a parade ground before the barracks closed in 2003.
The opening of the square connects the Peace Bridge - which opened last year - directly to Derry's Limavady Road.
It is the next step in the Ebrington Masterplan, which seeks to transform the former barracks into a space for mixed residential, commercial and cultural uses.
The square will be one of the key performance and cultural spaces for Derry's year as UK City of Culture.