Artist's appeal to rebuild demolished sculpture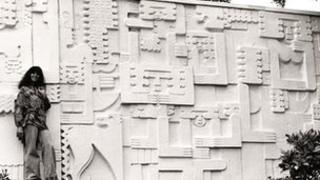 An award-winning artist who created a sculpture which was later demolished to make way for a car park in Londonderry has appealed for it to be re-created.
Joan Smith's work, 'City People', was once the focal point of Foyle Street Urban Park.
Ms Smith, who now lives in Australia, discovered in December that the 30m-long artwork had been torn down in the mid-1990s.
Derry City Council said the work had been "decommissioned and demolished".
Ms Smith described it as a "breathtaking act of cultural vandalism".
'Graveyard'
"The 70s were a difficult time, and the idea was to encourage people by creating works of art.
"Foyle Street Urban Park was a beautiful new park, with a bandstand, but I gather that now the park is completely gone.
"The work was very important to me because it was the very first piece I did as an artist in a public venue, so this piece launched me into that world.
"I've received quite a number of awards in Australia and internationally, but there's nothing that feels like a work you've done in your own home and in your own country.
"To me now, I see wherever it is as a graveyard."
Ms Smith said she discovered her sculpture had been demolished quite by chance.
"My husband and I were typing out the addresses of all our sculptures all over the world for our website, and we found out by accident.
"I had assumed it was still here, so I felt absolute disbelief, shock and horror.
"How can something like this just disappear?
"What I find the strangest is that the council were telling me about what a great city Derry is, and all the wonderful things they are doing for City of Culture, but what of the past, why is that denigrated?
"I have no idea what happened to it, and all I want it to have it re-erected.
"I have all the moulds, they are in perfect condition, and the cost would be minimal.
"I want to go back to square one and do it again as it was done in those days."
'Decommissioned'
In a statement, Derry City Council said it had informed Ms Smith that the artwork was decommissoned following the redevelopment of the former urban park in the mid-1990s.
They said the decision was taken following an extensive assessment of the site, and the council had been advised it could not be removed without being damaged.
"Derry City Council fully acknowledges the important role the City People artwork played in the city.
"The work is well documented and is held within the significant archive of the city's rich history of the commissioning of temporary and major fixed public art.
"It is unfortunate that this piece of work was decommissioned and demolished and we fully acknowledge that during its time it served the public life of the city."