Rape hearing adjourned for no-show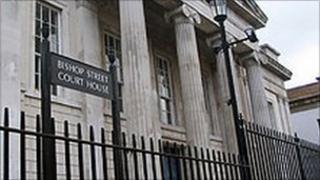 A preliminary enquiry into the rape of a 15-year-old girl in the grounds of a Londonderry school has been adjourned because the defendant was not in court.
Alan Titheridge, 20, from Broom Road in Sittingbourne in Kent, denies raping and assaulting the schoolgirl at Foyle College in July 2011.
His barrister told Londonderry Magistrates Court the defendant was unable to attend the hearing because he had lost his passport.
The case was adjourned until 20 April.
Mr Titheridge was initially remanded in custody but was released on high court bail in February and allowed to return to England.
District Judge Barney McElholm said he would not issue a bench warrant for the defenant's arrest because that would mean taxpayers in Northern Ireland having to pay for two police officers to travel to England to execute the warrant.
He said if the defendant failed to attend his next court appearance a bench warrant would be issued.