Derry girl caught up in tsunami warning in Thailand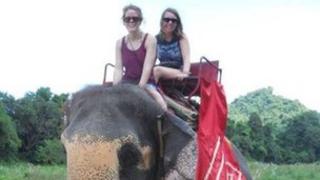 A 21-year-old Londonderry woman said she feared for her life after being caught up in a tsunami warning in Thailand.
Nuala Gill, 21, was on a beach on an island off the coast of Krabi when the warning was issued and she was moved to higher ground.
"We were terrified, everyone started running, they were all in a panic and crying," she said.
"No-one really knows what is going on, but we have been told we are safe."
Nuala had been teaching in Thailand for six months and was on holiday in the region before she is due to return home at the end of this month.
Her father, John Gill, said it was "a big shock" when he found out what was happening.
"At the time it was very, very frightening," he said.
"There is nothing we can do here, but thankfully she is with her boyfriend Connor Allen. We just told them to stick together."
The large-scale tsunami warning was issued across the Indian Ocean after a powerful earthquake struck off the coast of Indonesia.
Residents in the province of Aceh are said to be fleeing their homes, but there are no reports so far of large waves nor of any damage.