Londonderry police in underage drink 'sting operation'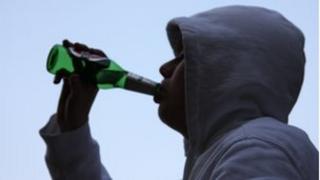 The police in Londonderry are to mount 'sting operations' against businesses which sell alcohol to young people under the age of 18.
Underage teenagers will be sent into pubs and off-licenses to try to buy alcoholic drinks.
Anyone caught selling it to them without checking for identification will be prosecuted.
The PSNI denied it was entrapment and said they would write to businesses before beginning their operation.
PSNI Inspector Trevor McKeown said: It's not designed as entrapment. We're talking about it, we're letting people know that it's going to take place.
"We'll be writing to everybody to allow them to educate and speak to their staff and make sure that anybody they believe is under 18 is challenged and asked for proper proof," he said.
Gerry McCloskey, chairman of the Derry Vintners Association, said it was often difficult to establish proof of age.
"If any publican, and I emphasise knowingly, sells alcohol to a minor, they deserve the full force of the law.
"But in this day and age, as you know now with the modern IT, there's so many fake identities running about, and they're so well done that you'll never tell the difference," Mr McCloskey said.
The chairman told Radio Foyle that the practice, known as test purchasing, was new to Derry but had been tried before in other areas of Northern Ireland.
But he added that if door staff carried out detailed proof of age checks, then businesses should have nothing to fear from the police operation.
Mr McCloskey also said parents should share responsibility for underage drinking and could stamp out the problem if they knew where their children were and questioned them when they came home drunk.