Derry bomb was left under car of PSNI officer's parents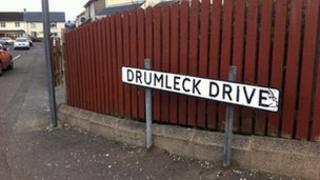 A pipe bomb has been left under a car belonging to the elderly parents of a police officer in Londonderry.
The device was left under the car at about 21:00 BST on Sunday. Police are treating the incident as attempted murder.
A number of homes were evacuated while Army bomb experts dealt with the device at Drumleck Drive in Shantallow.
The serving PSNI officer does not live in the house. Police have blamed dissident republicans for the attack.
Superintendent Chris Yates said the family were targeted in a similar attack in 2009.
"I spoke to them this morning - the police officer has no intention of giving up his chosen career, and the family are absolutely clear that this will not intimidate them out of the estate."
He said the device had the potential to cause serious injury.
"It beggars belief that these dissident criminals could think of targeting two pensioners who have lived in the city for 40 years and are well-respected," he said.
The alert caused disruption for local residents, including Laura Deery and her six-month-old son, Leo, who had to flee their home at about midnight.
"It was just terrifying. I had to lift the baby out of his bed, and our family had to walk up the street in our bare feet," she said.
"We weren't allowed back for food or nappies.
"How would these people like it if members of their family were put to the street?
'Malice'
"My baby could have been blown to pieces, I could have been making funeral arrangements."
Foyle MP Mark Durkan said: "Those responsible for leaving this viable device were out to cause damage and if they couldn't cause damage they certainly wanted to cause disruption to the many people who live nearby.
"It was carried out with malice.
"Once again those behind this attack are just damaging the people of Derry - they are advancing no cause or argument by this and are just bringing distress and disruption to the people of this city."
Policing Board chairman Brian Rea said: "The sense of community outrage shows that those responsible for leaving this device are completely out of touch with the community majority.
"We are thankful that the device was found in time, but our thoughts are with the officer's family and the people living close by who have been subjected to a most terrifying incident."
Meanwhile, a security alert has ended in north Belfast.
People were moved from their homes while a suspicious vehicle was examined by an Army bomb team close to Ligoniel Primary School.
Police say "nothing untoward" was found.