Derry Peace Bridge opening ceremony cost defended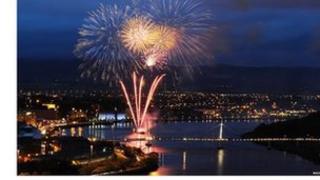 The regeneration company Ilex has defended the cost of the opening ceremony of the Peace Bridge in Londonderry.
The figure was given in response to a question put to the office of the first and deputy first ministers.
Foyle SDLP MLA Pat Ramsey said he was shocked at the £263,410 cost.
"Given the austerity measures in place within the Northern Ireland Assembly, there will be a number of eyebrows raised at the extravagance.
"We have to move forward but we should maximise what strengths we have in the city.
"It is necessary to invest money, but it is important that money is used for local companies," he said.
Caiomhin Corrigan, cultural broker with ILEX, said the final bill was justified.
"I think this was good value for money. I would rather we were more ambitious and spent more on events.
"Culture is a key game changer for this city.
"£50,000 alone is spent on health and safety. There is a required spend. That is quite conservative in some repects," he said.
The bridge, which cost £14m to build, was officially opened in June.