Political graffiti on Walls 'putting off tourists'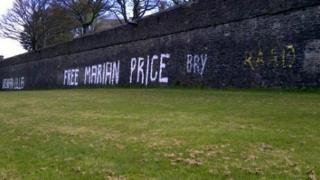 A DUP Councillor has warned that political graffiti on the Derry Walls could put tourists off visiting the city.
Gary Middleton said he had received three complaints about large slogans on the section of the walls facing the Bogside.
He also claimed that council workers had been threatened in the past when they arrived to remove the graffiti.
He said it was sending out the wrong message to potential tourists.
"The concern was around people who took the tour and the stop was in and around the Bogside," he said.
"They came to our office and complained that, not only was the political graffiti unsightly, but it prohibited them from taking photographs of the walls.
"That particular shot from the Bogside is a shot where you have the Memorial Hall, the First Derry Presbyterian Church. It destroyed that shot for them.
"You know, it will put people off from coming to the city and, possibly, visiting that section of the walls."
However, Adrian Kerr, manager of Free Derry Museum, said they received few complaints about the graffiti.
"It's not raised a great deal," he said. "I would say we're asked about it every couple of weeks or something like that and that's out of tens of thousands of visitors."