Five men flee Derry after being threatened by RAAD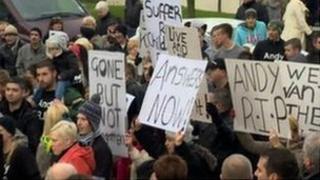 Five men have fled Londonderry in the past week after being threatened by the vigilante group, Republican Action Against Drugs.
The chairman of the Peace and Reconciliation Group, Michael Doherty, said three of the men were helped by his office.
"I have been condemning what RAAD have been doing for the last number of years, I had forecast that there was going to be a death before people woke up to what was happening," he said.
"Last week, alone, five young people that I know of have come through my office.
"On Friday afternoon I pleaded with a young man on the telephone not to go and get shot.
"His view was that it might be easier to take a flesh wound than to go through all of this."
On Saturday more than 200 people attended a rally in Guildhall Square in Derry to protest against RAAD.
RAAD has been linked to a number of shootings in the city in recent months, and it claimed responsibility for the murder of Andrew Allen in February.
On Thursday, RAAD was blamed for shooting a man in both legs in Creggan.
The organisers of the protest claimed the attack was deliberately timed to coincide with the rally.
The latest punishment-style shooting took place in Rinmore Drive at about 22:00 BST on Thursday.
The mother of the 18-year-old victim described how she had been ordered to bring him to an alleyway close to Creggan shops.
She waited a short distance away while the punishment attack was carried out and heard her son being shot twice.
The woman, who did not want to be named, said her son had been targeted because of his involvement in drugs.
Saturday's rally was organised by an anti-vigilante group known as RAAD - Not In Our Name.
It insisted that the latest shooting would not deter the protestors, but could result in encouraging more people to come out onto the streets.