Andrew Allen 'threatened' before murder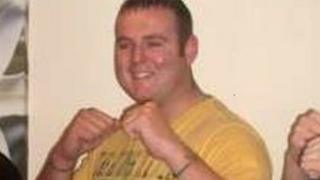 The family of Donegal man Andrew Allen believe he was threatened by members of Sinn Fein before he was killed, East Londonderry MP Gregory Campbell has claimed.
Mr Allen was shot dead at his home near Buncrana on 9 February. The vigilante group, Republican Action Against Drugs (RAAD), said it carried out the murder.
The DUP MP has written to the chief constable to ascertain if threats had been made against Mr Allen, warning that he would be abducted.
Mr Campbell said: "It is known that he was ordered to leave Londonderry by a republican terrorist group.
"A relative of the murdered victim has contacted me concerning threats that were issued against Mr Allen over a number of years and leading up to his murder.
"The relative claims that those who issued these threats were members of Sinn Fein."
Mr Campbell said it was vital that the truth be established.
He said he had written to to the Chief Constable, Matt Baggot, to ask if such claims had been investigated.
"Given the cross border nature of this case I have also asked if the police have communicated with the Donegal Gardai in the Irish Republic about these threats," he said.
"It is vital that the truth be established around this brutal killing and those responsible brought to justice."
A Sinn Fein spokesperson said: "If Gregory Campbell has evidence of any threats he should bring this evidence to the PSNI."
Meanwhile, RAAD said it had carried out two gun attacks in the north west in the past week.
It said it shot a man at his home in St Johnston, close to the border with Londonderry, on Tuesday and was behind an attack on an 18-year-old in Derry's Creggan area last Thursday night.
The group admitted the attacks in a statement to the Derry Journal. A public rally was held last weekend opposing both the shootings and a death threat against a local businessman.
On Monday, it emerged that five men had fled Londonderry in the previous week after being threatened by Republican Action Against Drugs (RAAD).
Two days earlier, more than 200 people had attended a rally in Guildhall Square in Derry to protest against RAAD.
The organisers of the protest claimed the attack on the 18-year-old was deliberately timed to coincide with the rally.
The victim's mother had described how she had been ordered to bring him to an alleyway close to Creggan shops.
She waited a short distance away while a paramilitary-style attack was carried out and heard her son being shot twice.
The woman said her son had been targeted because of his involvement in drugs.