Son jailed for setting fire to mother's hand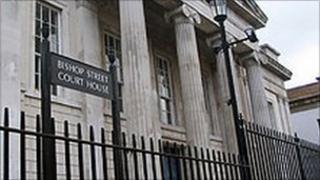 A 20-year-old man from County Tyrone has been jailed for nine months for pouring petrol over his mother's hand and setting fire to it.
Francis Devine, of Annaghbeg Park in Donaghmore, also broke her knuckle during the two assaults in 2010.
In June 2011 he was put on probation and given 80 hours community service.
He was rearrested for breaching his probation order and jailed for what the judge described as "disgraceful and cowardly attacks".
Devine appeared at Londonderry Crown Court on Friday before Judge Stephen Fowler, who had originally sentenced him in Omagh in August 2011.
Judge Fowler said the sentence he imposed on Devine was an atttempt by him and by the court to enable him to address his addiction problems.
Since then, he said, Devine had thwarted the efforts of those who had tried to help him get his life back in order.
Judge Fowler said he was therefore resentencing Devine for his "bullying, domineering and aggressive behaviour" towards his mother.
He said Devine's mother was a vulnerable member of his family who had been trying her best to help him.