First glimpse of Derry's City of Culture line-up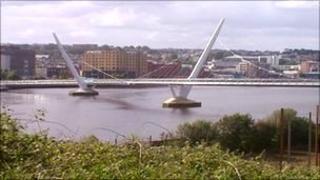 The Turner prize will leave England for the first time next year and will be part of Londonderry's year as UK City of Culture.
The launch of a preview programme in the city also confirmed that the 10-day celebration of Irish traditional music and culture, the all-Ireland fleadh, will be held in Derry.
There will be a live simultaneous performance of the London Symphony Orchestra and Camerata Ireland. A link will connect the Guildhall in London to the Guildhall in Derry.
The dance piece Political Mother, by Israeli choreographer Hofesh Shecter, will be performed on the city's historic walls.
The programme was launched by Culture Minister Caral Ní Chuilín who added: "Community events throughout the year will see partnerships with schools and the realisation of community cultural strategies, culminating in exhibitions and festivals of local art and culture."
Among the 400 invited guests were actors Stephen Rea and Sam Shepherd who will be returning to the stage in Derry next year as the theatre company Field Day returns.
Describing preparations, the chairman of the Culture Company, Martin Bradley, said "it has been frantic".
"It has been seat of the pants stuff in many cases.
"The main goal has always been to have a huge fantastic party next year but let us not have a big shiny bus roll in for a year and roll out again, let's make sure that what we do has a lasting legacy here".
'Security concerns'
Derry was selected as the UK's first City of Culture in 2010.
The bid to host the all-Ireland fleadh, a festival of traditional Irish music, was almost lost due to security concerns.
However, the Ulster Council of Comhaltas Ceoltoiri Eireann, the organising body, made a late decision to reverse its decision not to support the bid.
It had withdrawn its backing after two bombs exploded in the city.
Dissident republicans have attacked the City of Culture offices twice in the last two years.
There has also been an attack on the tourist office.
Reassurances from local representatives in Derry and the city's chief police officer, Superintendent Stephen Martin, helped secure the All-Ireland Fleadh bid.
The Fleadh attracts up to 300,000 visitors and is worth about 40m euros to the host venue.
The full list of events is expected to be announced in September.