Parents have criticised Catholic education plan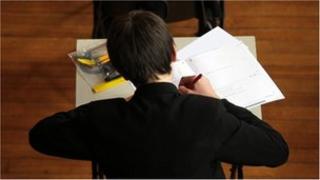 Supporters of Catholic grammar schools in Londonderry have criticised proposals by the church to reform post-primary education in the city.
The proposals, made by Monsignor Eamon Martin, include the abolition of academic selection and an end to single sex schools.
Parents and teachers met on Wednesday night to discuss the suggestions.
It was argued that, if implemented, they would increase social inequality and put an end to parental choice.
A number of parents criticised a proposal to base school admissions on where a child lives: "zoning".
One parent said: "If they do push it through my youngest child will go to the worst performing secondary school in the town because of where I live.
"It's the children from disadvantaged areas that are going to be worst affected".
'Consultation process'
Parents also expressed fears that they would lose the ability to decide on important matters.
The decisions include whether or not their child sits a transfer test and whether or not they go to a single sex school.
"Choice is the biggest factor," said one man.
"It's not to do with streaming. It's a very serious thing.
"I have a child coming up now to secondary school and I want to see choice, it should be there".
The proposals are open for consultation until June 22nd.
The church has invited parental response.
Monsignor Martin has previously said that he will reflect on the responses and discuss with Trustees before a decision is made.
A number of those attending the meeting said they were worried that other parents in the city do not know about the proposals and will not therefore respond.
"Apart from what I read in the paper about this meeting, I didn't know about the proposals," said the mother of a P6 pupil.
"I didn't really understand how quickly this was moving and how serious it is, I thought these were proposals that will happen in about ten or fifteen years."
'Level playing field'
Another mother said her biggest fear is that parents in the city "are simply not aware".
It was argued that if such changes do proceed, they should be implemented across Northern Ireland and not in Derry alone, so that children from the city would be on a "level playing field" with others.
A spokesperson for the church declined to comment on concerns raised by parents at Wednesday night's meeting.